There is a problem plaguing the startup world: the need to invest tens or even hundreds of thousands of euros in the development of a product that no one uses in the end. At Applifting, we decided to solve this problem once and for all using the traditional methods of our ancestors. Our product team's newest member is familiar with tarot cards, healing crystals, dice, and is even able to work with a crystal ball.
At Applifting, we have been building a top team of product and UX designers for two years now, assisting our clients in identifying gaps in their products and dealing with them before we build the solution. We help our customers to save money they can utilize for other activities, whether it's the development of other functionalities, financing health care in Africa or purchasing covid tests and respirators as per current government regulations.
Our team is very efficient and can usually validate the product within two to four weeks. But what if you need to guarantee the success of your product immediately, and you just can't wait? No problem, that is what we are here for!
"What if you need to guarantee the success of your product immediately, and you just can't wait?"
We hired a fortune teller as part of our product team, and the change was almost instant. We managed to reduce the validation time from a few days or weeks to hours or sometimes even tens of minutes. And we'd like to introduce you to the tools we use to do that.
A crystal ball
Probably the most handy weapon in our armory. We usually organize an introductory all-day workshop with the customer at the beginning of the project during which we try to get a feel for the product and client needs. However, when choosing the right medium, a crystal ball provides you with a contactless way to obtain all the information, which is not only economical but also hygienically safe. And that's all the rage in the pandemic age, isn't it.
Dice
We managed to buy several sets of various dice for cheap from a group of our colleagues (who recently moved their Dungeons & Dragons sessions online). They can be used to rigorously estimate which areas of the Value Proposition Canvas are the most important for a particular product. In addition, if the customer requires a cost estimate before defining the product, we can now give them an educated guess that is based on more than just the experience of our developers.
Numerology
Numerology is one of the most convincing methods our seer uses. Assorted sets of numbers (often using competition statistics, user estimates, and demographic data) allow him to predict the often unexpected surprises that lie in store for the soon-to-be product. This is based not only on his colleagues' experience with the creation of business plans, but also on the book Numerology for Dummies. And for the more complicated projects, he always keeps The Numerology Guidebook close at hand.
Medicinal herbs and other natural products
According to current historical research, our prehistoric ancestors already knew the beneficial effects of medicinal herbs and mushrooms on creativity. However, in keeping with the rules of our Applifter's codex, we do not condone substance abuse--our seer may therefore use only the means prescribed by his doctor (to treat arthritis, of course) to stimulate his creativity.
Tarot
Saving the best for last, the use of tarot cards when validating startup ideas proved to be such a success that we decided to show our hand and reveal to you how we do it. With the help of the following instructions (download here) and a deck of tarot cards, you too can become the parent of a new successful startup.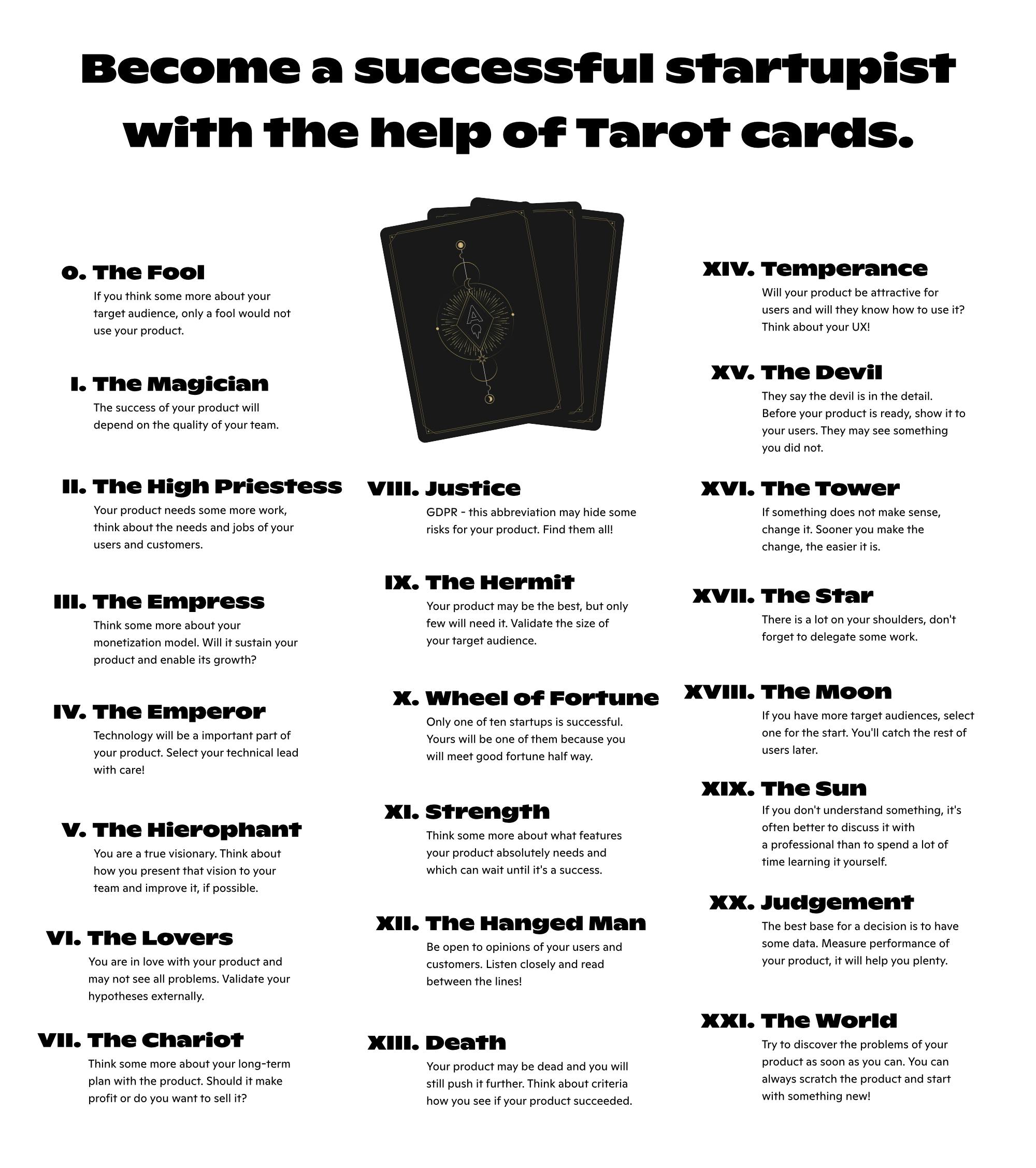 When everything else fails
Unfortunately, some studies show that divination is not one hundred percent reliable, and therefore we recommend comparing the results with modern methods of startup validation. Not sure where to start? No worries! Get in touch with us, and we will be happy to help you. For free.